https://www.youtube.com/watch?v=W82uEJ3jg30
Do you want to create a marketing plan PPT presentation quickly? This template is one of the best marketing plan PowerPoint templates in the market. It helps you to create a winning marketing plan presentation easily. It created by a professional team.
This presentation template created depending on the best guides to create a marketing plan presentation. So, you will find all the marketing slides you need to create a successful marketing plan presentation.
Get it now!
+300 Unique slides
This template contains an awesome collection of modern marketing slides. So, you will have a wide variety of options to create a great marketing plan presentation.
One-click to change all slides color
This presentation template created based on color themes. Changing all the slides colors is a very easy operation. You only need one-click to change it.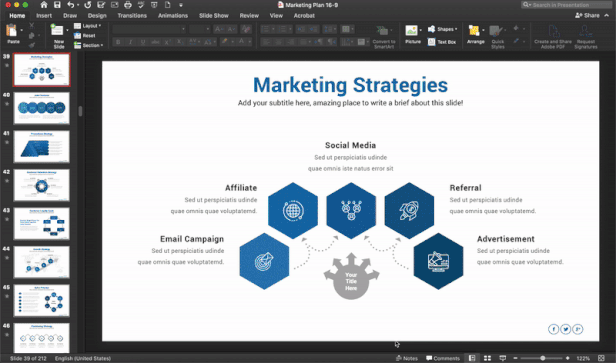 Marketing Plan PPT built based on color themes. This template has 40 modern color schemes, each one comes with two backgrounds (Light and Dark). Changing the color scheme of all the templates is very easy. From the 'Design' tab -> then 'Colors' -> choose the color you want. It will apply to all presentation slides directly!
The XML files of the color themes included with the template. So, they will be a part of your PowerPoint. You can use them anytime you want.
Get it now!
Marketing Plan PowerPoint template comes with a great collection of fully editable charts. You can edit them easily using MS Excel.
Present your data visually and impress your audience! This presentation has a varied collection of charts such as pie chart slides, column chart slides, area chart slides. Besides, some illustration charts to help you add your content quickly and easily.
Get it now!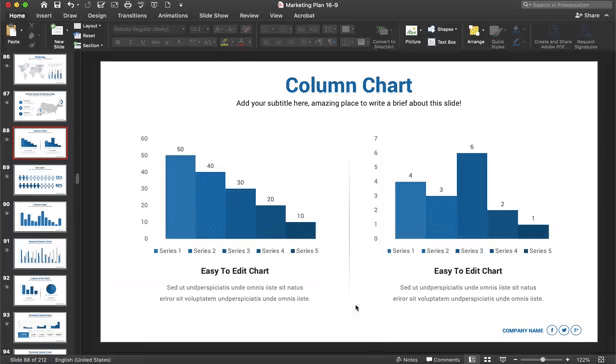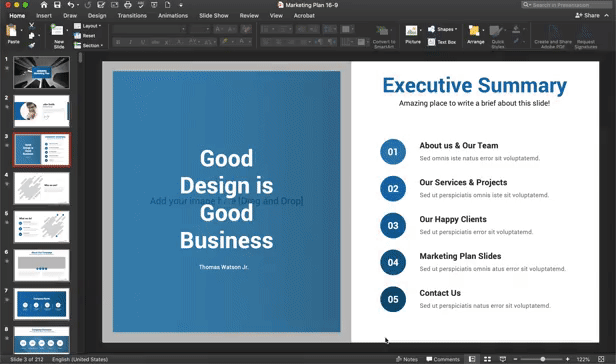 There is an image placeholder for each image in this template. You can add your image by drag and drop it into the slide, then the image placeholder will be replaced with your image in the same shape and size.
Also, you can click on the icon available inside the image placeholder to open the image browser and choose any image you want from your computer.
Get it now!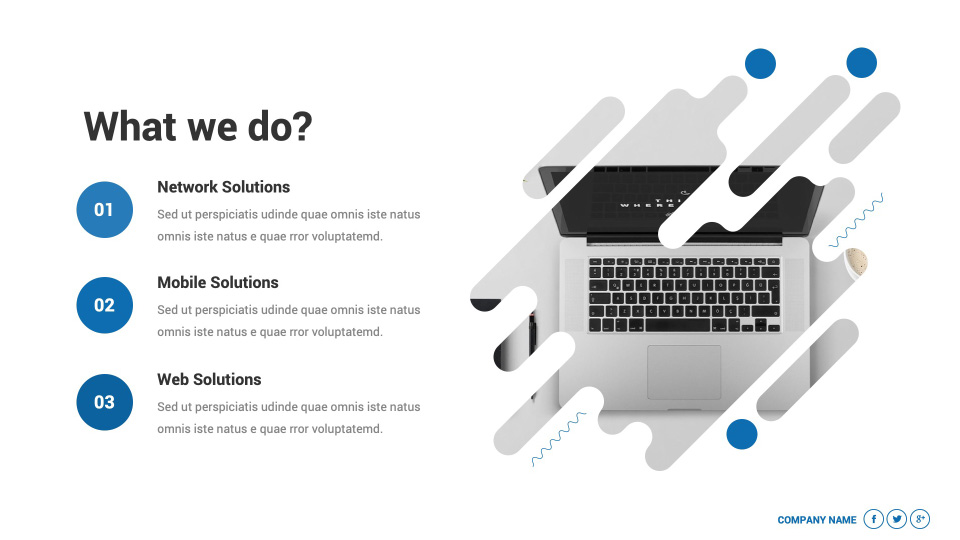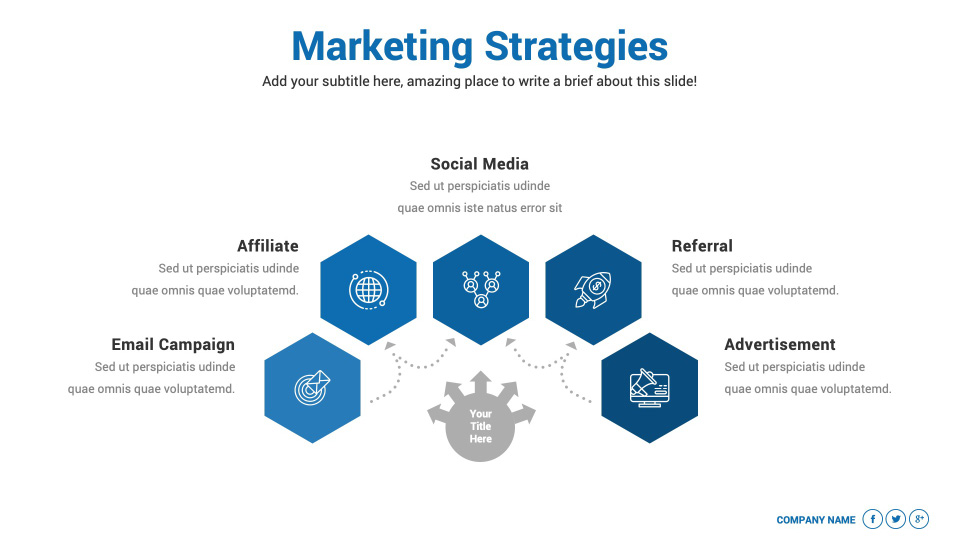 This marketing plan PPT template has a comprehensive collection of useful marketing slides. All of them are fully editable.
Save tons of time and create your marketing plan presentation quickly using this awesome marketing template. It's a great template. Besides, it's very easy to use. You don't need to use any design applications like Adobe Photoshop or illustrator. You can edit every thing using MS PowerPoint easily.
This presentation contains modern and clean slides. You will not find slides like them in a free marketing plan PowerPoint presentation template.
Get it now!
Amazing Deal!
+300 Marketing Slides for Only 16$
This top marketing template designed especially to help you create your next Marketing PPT easily. It contains an awesome set of marketing slides such as marketing infographics, fully editable charts, vector marketing icons, mockups and editable maps.
Impress your audience with this modern and clean design marketing plan template.
Get it now!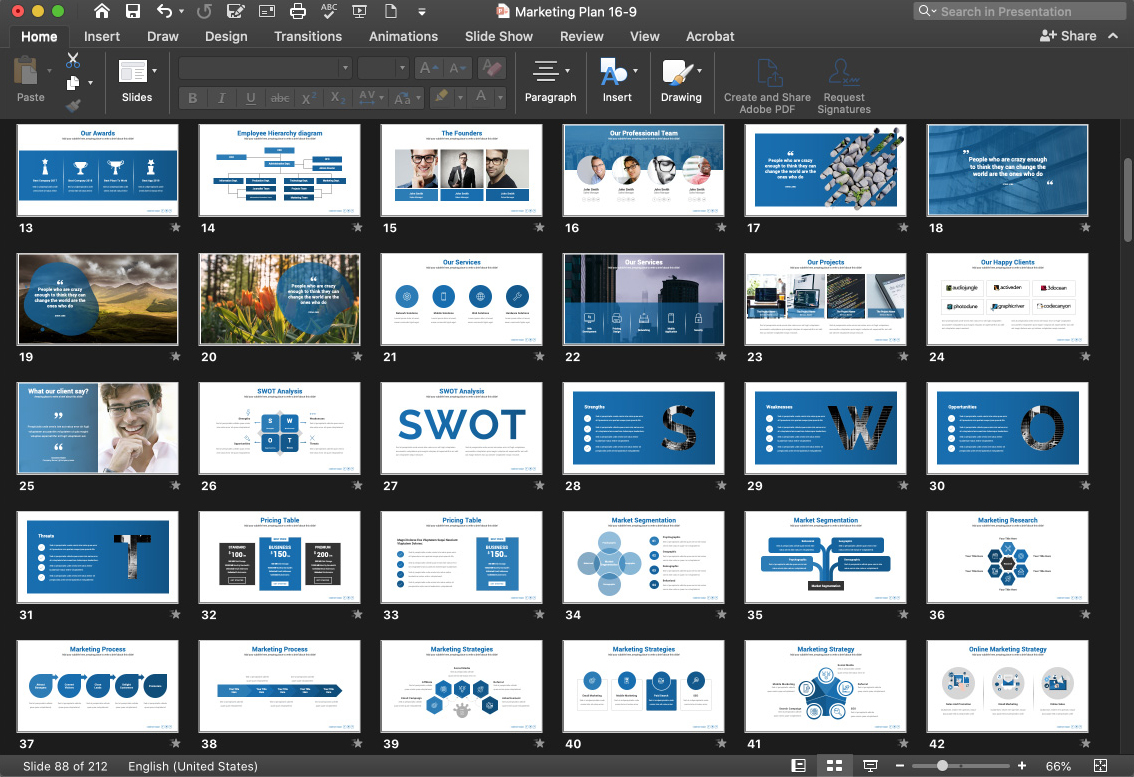 This template created with love by SpriteIT